.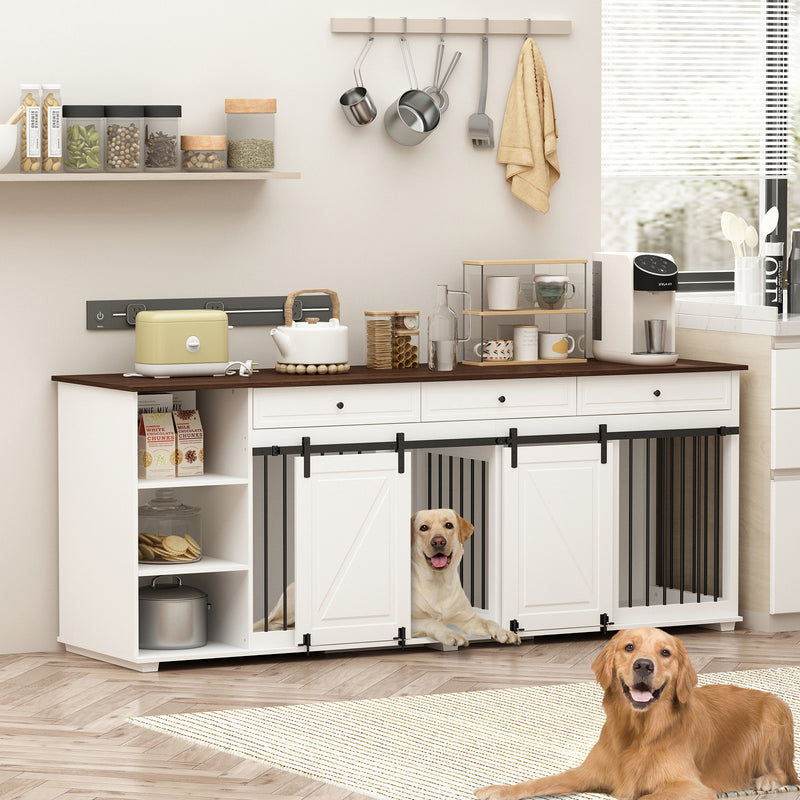 🐶【REINFORCED CONSTRUCTION】This furniture-style dog crate is crafted from premium P2 PB, featuring a smooth, non-toxic and wear-resistant surface, providing a safe and comfortable shelter for your furry friends. The sturdy and thickened tubes,as well as the 4 upgraded locks ensure that your dog stays secure inside until you let them out.It's pefect for most medium, large breed dogs.
🐶【2-ROOM PRIVATE SPACE】This large dog crate with dividers is suitable for more than 2 dogs to rest and prevent them from fighting each other. You can remove the dividers to make it an extra large luxury crate for several dogs. The dog crate dimension is 86.6" X 23.6" X 34.1", and the inner room dimension is 33.6" X 22.8" X 23.4". Please measure your pets before buying.
🐶【LARGE STORAGE SPACE】The wooden dog cage furniture is designed with 3 large drawers and 3 shelves for extra storage, which is great for storing dog leash, snacks, medicine and other sundries. The spacious desktop can support up to 180LB, stable enough to accommodate your TV, photo albums, potted plants, books, magazines and other supplies.
"🐶【VENTILATION & EASY TO OBSERVE】The indoor dog kennel is equipped with high quality abrasion resistant iron railings. Therefore, you and your dogs can see each other through the railings, which makes a nervous puppy feel safe and relaxed. It also convenient for you to observe the condition of your pets at any time. Elevated feet help to keep the crate dry and prevent dampness.
"
🐶【MODERN DOG CRATE FURNITURE】This designer-style modern and classic kennel with sliding door will blend in perfectly with most furniture styles. The dog cage can also be used as a TV stand, side table, end table, dresser, sideboard, buffet cabinet, adding much elegance to your home decor. We offer 1 year guarantee for this dog house. Buy with confidence!

Why Choose DAWNSPACES White Dog Crate Furniture?
Modern, Sturdy, Practical
A great place for your furry companions to rest and prevent them from damaging other furniture while you're out.
Suitable for most medium, large dogs. You can remove the divider as you need to make it comfortable for your dogs.
High quality, sturdy and stable. Everywhere is carefully designed. Made of premium particle board and iron, our dog crate has longer service life.

Material: P2 PB Wood and Metal
Overall Dimensions: 86.6"" X 23.6"" X 34.1""
Single Room Internal Dimensions: 33.6"" X 22.8"" X 23.4""

Tips:
1.Measure your pet's dimensions, including length and height, to ensure the product is the right size for your pet.
2.We will ship 2 packages for this lage dog crate. Please wait for the other one if you only receive one package."

Returns Policy
Please contact us at service@dawnspaces.com, before you return any items.
Get autorization from Customer Service.
Use the return address provided by Customer Services.
TRACKING NUMBER is required to complete the return.
It will facilitate for us to track your return status and process your return.
Take your refund/exchange when the package is received.
Please note
If the return or exchange is due to the buyer's reasons, such as not liking/not wanting/not fitting, etc., the buyer will be responsible for the shipping costs.
If the return or exchange is due to the product, e.g. missing accessories/broken goods, etc., the shop will be responsible for the shipping costs.
Orders are able to be canceled and refunded before shipping.
As it has started shipping, what you need to do is waiting for your parcel delivery then start a return.
Easy to initiate a refund or exchange in 30 days after delivery.
The refund will be completed within 3-5 working days, and the exchange will take 1-2 working days to process and ship.
In case you have any query, please do not hesitate to get in touch with our customer service on: service@dawnspaces.com.
Shipping
We usually use USPS or FedEx for delivery and provide free shipping for all orders.
When we receive the order confirmation information, we will process it immediately and it will take 1-2 working days to ship.
After the order is shipped, a shipping confirmation email will be sent to your email address.
You will receive the product within 7-10 days after receiving the email.
However, the specific situation is based on the official carrier logistics information, and any delivery date provided by DAWNSPACES is an estimated date.