.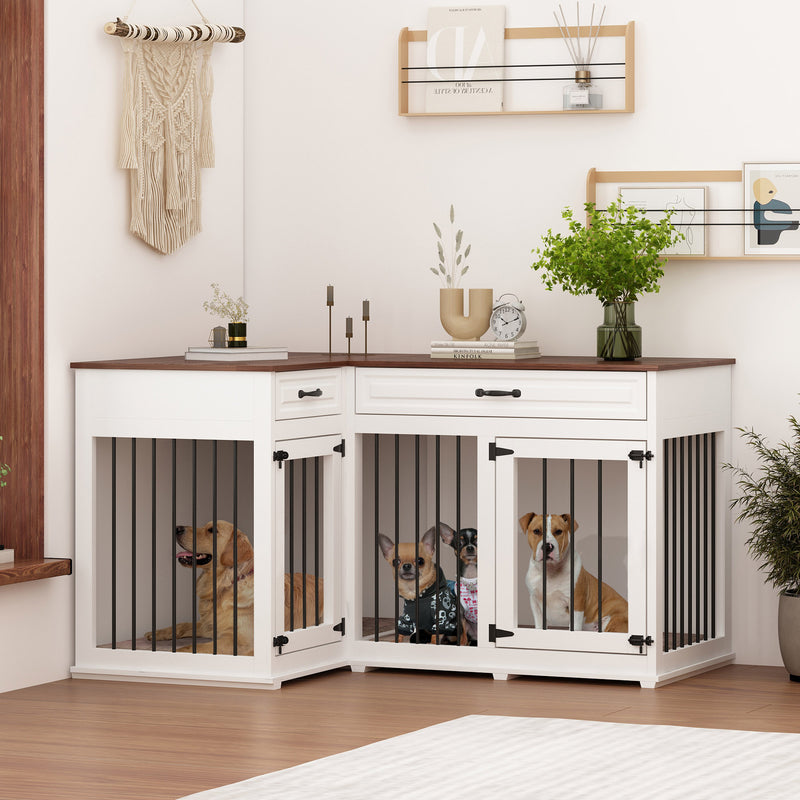 【L SHAPE MAKES FULL USE OF SPACE】Our dog crate is designed in an L-shape. The longest side is 60 inches long. This crate fits perfectly in the corner of the house, next to the bar.

【CHANGEABLE SPACE ROOM】Our large dog crate furniture is equipped with a removable divider in the middle of the two cages. You can easily switch between one or two rooms by assembling and disassembling.

【2 DRAWERS THAT CAN BE STORED】At the top of the dog crate, we installed two drawers. The drawers measure 32.2 x 5.1 x 23.6 Inch and 15.4 x 5.1 x 23.7 Inch and can be used to store pet supplies or other items.

【EXTRA LARGE CAGE SPACE】This dog kennels and crates has a large size making it very spacious for medium-sized dogs and smaller large dogs. Please place a soft and thick pad to give your furry friend the most peace of mind.

【MULTI-PURPOSE DOG CRATE FURNITURE】The large dog crate's oversized 58.7" x 41.3" x 33.4"x 23.6" tabletop can hold at least 200 pounds. You can use this dog crate as a TV stand, plant stand, display stand, etc. The white and brownwood color combination can be combined with any decorating style.

【DETAIL-FILLED DESIGN】The dog crate cage bars are made of steel. You can see around the room even if your dog is locked inside. Dog crate doors are equipped with door locks. Felt feet increase the friction with the floor to prevent slipping and scratching the floor.
Returns Policy
Please contact us at service@dawnspaces.com, before you return any items.
Get autorization from Customer Service.
Use the return address provided by Customer Services.
TRACKING NUMBER is required to complete the return.
It will facilitate for us to track your return status and process your return.
Take your refund/exchange when the package is received.
Please note
If the return or exchange is due to the buyer's reasons, such as not liking/not wanting/not fitting, etc., the buyer will be responsible for the shipping costs.
If the return or exchange is due to the product, e.g. missing accessories/broken goods, etc., the shop will be responsible for the shipping costs.
Orders are able to be canceled and refunded before shipping.
As it has started shipping, what you need to do is waiting for your parcel delivery then start a return.
Easy to initiate a refund or exchange in 30 days after delivery.
The refund will be completed within 3-5 working days, and the exchange will take 1-2 working days to process and ship.
In case you have any query, please do not hesitate to get in touch with our customer service on: service@dawnspaces.com.
Shipping
We usually use USPS or FedEx for delivery and provide free shipping for all orders.
When we receive the order confirmation information, we will process it immediately and it will take 1-2 working days to ship.
After the order is shipped, a shipping confirmation email will be sent to your email address.
You will receive the product within 7-10 days after receiving the email.
However, the specific situation is based on the official carrier logistics information, and any delivery date provided by DAWNSPACES is an estimated date.