.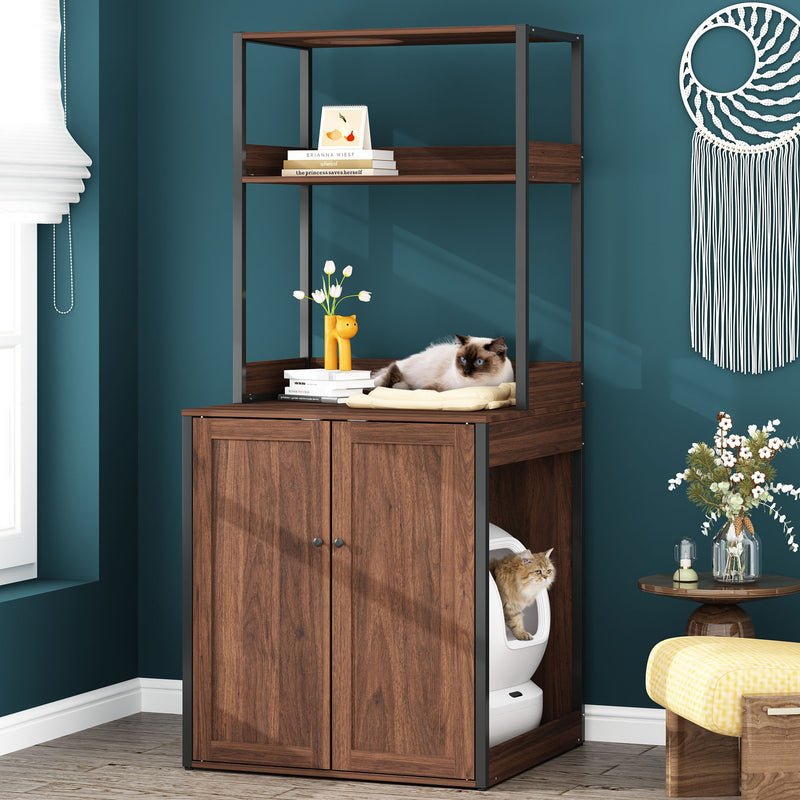 😽【DESIGN FOR LARGE LITTER BOX 】Our litter box enclosure is designed for large litter boxes especially for those automatic litter boxes, with dimensions of 30.8 X 28.3 X 70.5 inches. The interior dimensions for the bottom room are 28.4 X 26.5 X 26 inches. It is suitable for litter boxes smaller than 28 x 26 x 26 inches.
😽【ADDITIONAL STORAGE SPACE】There are 2 shelves on top of the cat cabinet that you can use to store pet supplies. At the top, we've designed a cat hole that allows cats to play freely up and down. You can also place a cat bed on the shelves as a resting place for the cats.
😽【STURDY & STABLE】Our concealed cat litter box enclosure is made from high-quality PB and heavy-duty metal, ensuring it's sturdy and stable. There are side panels on both sides of the litter box cabinet to prevent the smart litter box from moving. Additionally, we've used magnetic doors to prevent cats from accidentally opening it.
😽【PERFECT FOR MULTI-SCENARIO】Our large cat litter box enclosure furniture is open on both sides, allowing you to place the entrance of the automatic cat litter box on either side. You can also use it as a bookshelf, display rack, plant stand, etc., and position it in various places such as the entrance, living room, bathroom, and more to cleverly conceal the litter box
😽【EASY ASSEMBLY】All boards and components are numbered, making it easy for you to complete the installation. Additionally, we provide a 1-year warranty and excellent customer service. Please feel confident in your purchase!

DAWNSPACES Large Cat Hidden Litter Box Enclosure
Just like you, every member of our company has their own little furry friends. That's why we can empathize with you and your animal companions. Safety, practicality, and aesthetics – we make every effort to ensure you and your pets can spend wonderful moments together.

Specifications:
Material: P2 Level PB + Metal
Color: Brown
Overall Dimensions:36""x20.5""x17""
Package Includes:
1 x Cat Litter Box Enclosure
1 x Instruction


Returns Policy
Please contact us at service@dawnspaces.com, before you return any items.
Get autorization from Customer Service.
Use the return address provided by Customer Services.
TRACKING NUMBER is required to complete the return.
It will facilitate for us to track your return status and process your return.
Take your refund/exchange when the package is received.
Please note
If the return or exchange is due to the buyer's reasons, such as not liking/not wanting/not fitting, etc., the buyer will be responsible for the shipping costs.
If the return or exchange is due to the product, e.g. missing accessories/broken goods, etc., the shop will be responsible for the shipping costs.
Orders are able to be canceled and refunded before shipping.
As it has started shipping, what you need to do is waiting for your parcel delivery then start a return.
Easy to initiate a refund or exchange in 30 days after delivery.
The refund will be completed within 3-5 working days, and the exchange will take 1-2 working days to process and ship.
In case you have any query, please do not hesitate to get in touch with our customer service on: service@dawnspaces.com.
Shipping
We usually use USPS or FedEx for delivery and provide free shipping for all orders.
When we receive the order confirmation information, we will process it immediately and it will take 1-2 working days to ship.
After the order is shipped, a shipping confirmation email will be sent to your email address.
You will receive the product within 7-10 days after receiving the email.
However, the specific situation is based on the official carrier logistics information, and any delivery date provided by DAWNSPACES is an estimated date.